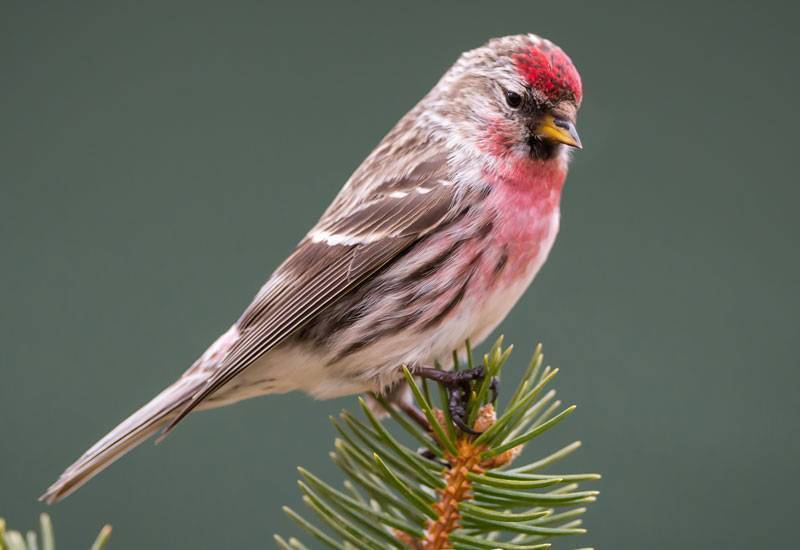 Common Redpoll
Fast Facts:
Common Name:
Common Redpoll
Scientific Name:
Acanthis flammea
Diet: Vegetarian
Size: 4.5-5.5 inches long
Weight: .5 ounces
Description:
Common redpolls feature mostly brown-grey coloring and red area on its forehead, two lighter grey stripes on the wings, and a black or dark grey bib. The males also feature a red-tinged chest.
---
Habitat and Migration
Typically found in the northern regions of the United States and throughout much of Canada, common redpolls are winter finches. Common redpolls migrate in flocks during daylight hours, but usually only head south if food is scarce in their area. They can be found in bushier areas, often in spruce forests or in willow, dwarf birch, or alder trees.
Social Behavior
As foragers, they're often found on the ground, searching for food, which they can store in a pouch in their throats for several hours. During winter months, males are dominant, but this dominance shifts to the females during breeding and nesting season.
Des Moines Feed Blends
Cardinal

Parkview

Classic

Rich & Tweet

Outdoor Finch
Visit the Nature Center
Find the right food plots for deer and other wildlife, visit our convenient online store today!
Come See Us