Supporting Pigeon Health
Since the 1950s, we've been creating Des Moines Pigeon Feed with the highest quality seeds that are cleaned, graded, and air-aspirated. All ingredients meet the most stringent nutritional standards and every grain used in our pigeon feed is non-GMO. Because we take care to air clean our feed, removing potential dust from the grains, the feed goes much further. Your birds don't have to pick out a bunch of filler and debris to get to the food they want.
Variety of Bird Feed
Depending on the health needs of your pigeons, you may be looking for a specific type of feed. This is why we carry a large variety of mixes, including mixes with or without corn.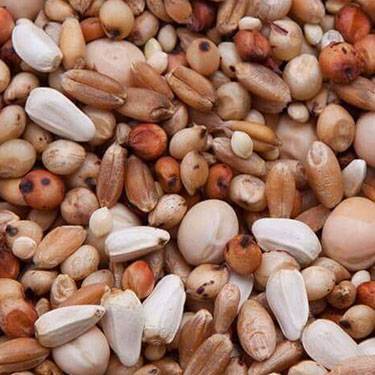 No Corn
Like humans, pigeons can be picky about what they eat. Some may simply refuse to eat corn. In that case, choose from one of our five corn-free pigeon feeds! To ensure your birds are receiving enough protein, we recommend mixing Canadian field peas, Austrian peas, green peas, lentils, vetch, or maple peas to increase their intake of crude protein.
Corn
Our air cleaned pigeon feed is free from dust and debris, ensuring your pigeons are getting what they need instead of filler. Corn used in this feed is tested in a trusted third-party laboratory for the proper amount of protein, oil, and carbohydrates.
Seeds
Each feed includes a hearty amount of grains needed to boost performance and support healthy birds. If you'd like to learn more about pigeons and how to make sure your birds are maintaining a healthy diet, stop by Des Moines Feed & Nature Center and speak to an expert!
Visit the Nature Center
Find the right food plots for deer and other wildlife, visit our convenient online store today!
Come See Us